---
> P r o j e t E r o s ( 2 0 0 1 )

P r o p o s i t i o n s p o u r u n e t a x i n o m i e E r o t i q u e

L'astéroïde géocroiseur 433-Eros fut survolé par la sonde NEAR de la NASA en février 2001. A la suite de cette mission, de nombreux clichés furent réalisés permettant une cartographie complète de ce petit astre. Il fut alors nécessaire de trouver des noms pour les principales formations montagneuses découvertes, principalement des cratères. La
Planetary Society
lança un appel d'offre en ce sens, proposant d'utiliser des noms se référant aux héros légendaires de l'amour (voir texte ci-dessous).
Le Projet Eros se voulait une réponse à cette demande. En guise de héros, il propose cent prénoms à la mode des années 2000, entérinant le fait que les héros n'existent plus ou bien que de nos jours, tout le monde est devenu un héros.
As NEAR approaches its target - asteroid 433 Eros - the mission is faced with the daunting challenge of naming more than 100 craters that may be found on Eros and for which names will be useful, as when making reference to unique features of geographic position. The NEAR team has asked Planetary Society members and others to suggest crater names, which will later be submitted to the International Astronomical Union (IAU) for official consideration. The name Eros suggest an obvious theme : love. The craters of Eros can be named after famous lovers, legendary romantic locales, aspects of love, and so on (please, no obscene or offensive names). You are invited to submit names for Eros' craters. Send your entries to :
Names on Eros, The Planetary Society, 65 N. Catalina Avenue, Pasadena, CA 91106, USA.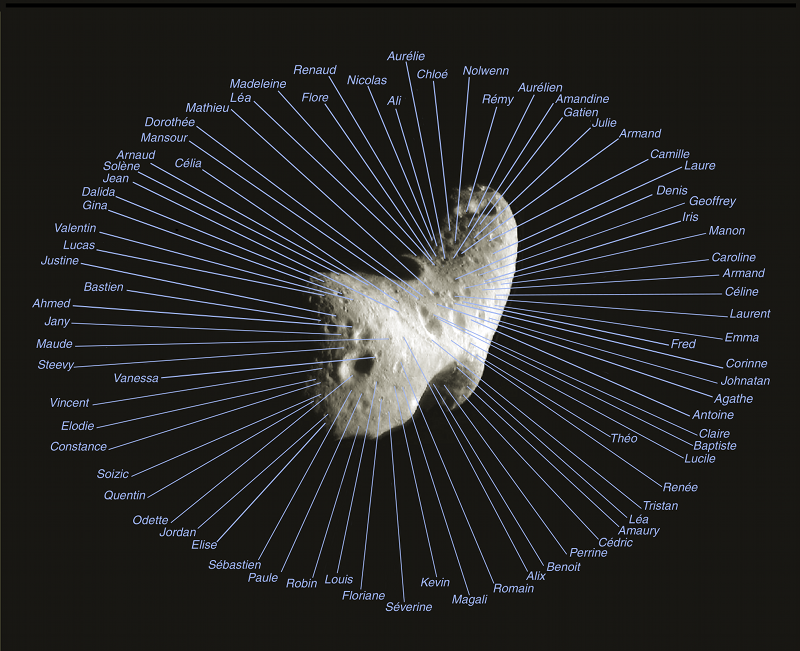 Projet Eros
, impression numérique, 2001